The Community Library Association – Library, Gold Mine, and Museum
---
Susie Bille and Janet Ross-Heiner
Andrea Nelson and Pam Parker
Staff Retreat, April 2019
CLA staff wait at the bus stop at the April 2019 staff retreat.
Jenny Emery Davidson, Janet Ross Heiner, Cándida Miniño, Molly! Goodyear, and Martha Williams stop for a photo in front of the new circulation desk.
CLA and Senior Connection staff on the Cimino Plaza right before the first Lunch & Lit.
Jenny Emery Davidson, Nicole Lichtenberg, and Pam Parker at the 2019 American Library Association conference in Washington, D.C.
Staff
Leona Anthony
Library Assistant
Susie Bille
Systems Librarian
Deva Burns
Retail Associate
DeAnn Campbell
Children's and Young Adult Library Director
McKenzie Christie
Retail Manager
Brenda Cook
Processing Associate
Will Duke
Information Systems Manager
Jenny Emery Davidson
Executive Director
Molly! Goodyear
Gold Mine Consign Manager
Carter Hedberg
Director of Philanthropy
Nicole Lichtenberg
Director of Operations
Spencer Kaufman
Consign Associate
Karen Little
Library Assistant
Emanuel Lopez
Retail Associate
Peter Matschek
Processing Associate
Buffy McDonald
Reference Librarian
Jerry McDonald
Maintenance Manager
Kyla Merwin
Communications Manager
Snickerdoodle Merwin
Service Dog in Training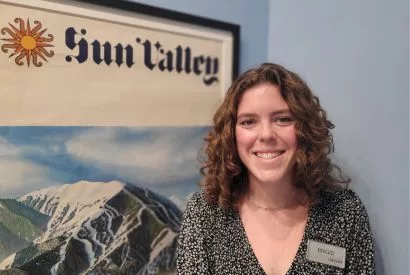 Brigid Miller
Museum Community Engagement Manager
Cándida Miniño
Outreach Librarian
Helen Morgus
Children's Librarian II
Andrea Nelson
Librarian I
Kelly Noble
Processing Manager
Ellie Norman
Wood River Museum Collections Specialist
Ellen O'Dell
Children's Librarian and Programming Assistant
Brianna Palencia
Gold Mine Processing Associate
Pam Parker
Circulation Manager
Raeghen Peavey
Director of Gold Mine Stores
Andrea Perrin
Children's Librarian I
Ingrid Roman
Processing Associate
Nicholas Romero
Retail Associate
Janet Ross-Heiner
Librarian I and ELL Instructor
Ann Sandefer
Philanthropy Associate
Janis Tedrow
Retail Associate
Mary Tyson
Director of Regional History
Daniel Velasco
Processing Associate
Aly Wepplo
Collections Manager
Martha Williams
Director of Programs and Education
Judy Zimmer
Children's Librarian II
Board of Trustees
Donna Delahorne
Board Chair
Julie Weston
Board Vice-Chair and Regional History Committee Chair
Thomas Benson
Board Treasurer and Finance Committee Chair
Ann L. Christensen
Honorary Trustee
Hank Dart
Gold Mine Committee Chair
Lyman Drake
Honorary Trustee
Joanne Hogue
Trustee Emerita
Marlene Klingenfuss
Trustee
Ann Adamson Leonardo
Trustee
Bill Lowe
Honorary Trustee
Jason McIlhaney
Facilities Committee Chair
Ann Taylor
Honorary Trustee
Christiane Turner
Development Committee Chair
Mike Wade
Board Vice-Chair
Lisa Briggs Whorton
Board Secretary and Governance Committee Chair