Librarian Andrea Nelson recommends The Covenant of Water by Abraham Verghese.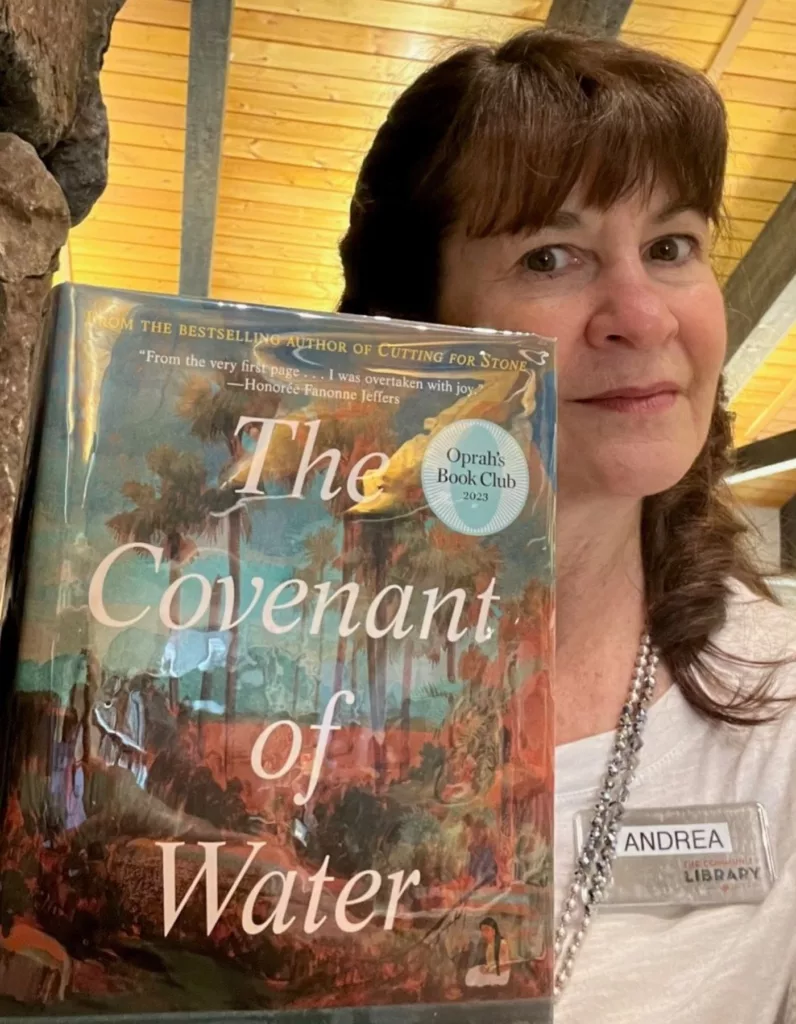 Let's begin by addressing the elephant in the room. Abraham Verghese's much-anticipated new book, The Covenant of Water, is well over 700 pages long. Libby and Axis 360 offer digital formats, but fair warning: Don't try to listen while distracted. This book deserves your full attention. From the prologue to the last poignant scene, The Covenant of Water is a literary masterpiece.
The saga begins in 1900. Pledged to marry a 40-year-old widower, a 12-year-old bride-to-be must leave her impoverished mother and travel to a remote farming estate on the Southwest Coast of India. In spite of her fear and loneliness, she learns to cook, keep house, and serve as "Little Ammachi" (little mother) to her husband's young son. Over time, she becomes "Big Ammachi," the matriarch of an estate, family, and community she builds, nurtures, and learns to love.
Fast-forward to 1933. Digby, a second major protagonist, flees a tragic childhood in Scotland to study medicine in Madras. His path will cross with Rune, a Swedish physician who leaves his life of wealth and status to renovate an isolated "leper colony" and ease the suffering of India's most forsaken. A constellation of complex, multi dimensional characters move through each other's lives, impacting them in ways some will know and others never will.
Himself a practicing physician, author Abraham Verghese's reverence for the ethical practice of medicine influences each storyline, ultimately stitching them together. But it is motherhood, not medicine, that proves the dominant theme. The book begins and ends with mother-child relationships, paying homage to the quiet brilliance of women navigating a culture of oppression. Verghese's searing, near-poetic prose captures not only the heavy weight women carry when misguided cultural norms and traditions deprive them of personal choice and opportunity, it illustrates the cost to family and society.
It is also a story of men, both strong and weak, and of redemption.
Now, let's address the literal elephant, Damodaron. He appears and retreats from view throughout Big Ammachi's long life, sticking his huge, gray head into the kitchen window, welcoming new members of the clan with a fragrant branch or gentle nudge, even helping to facilitate an intervention. His role is minor, but significant. Symbolizing continuity and endurance, the elephant bears witness to all three generations' joy and pain.
Please be forewarned that this book contains some graphic, truly horrific scenes— some attributable to human weakness and stubborn pride, and some due to a terrible "family condition." In each generation, someone in Big Ammachi's husband's family drowns. All families have secrets.
Vivid imagery most differentiates The Covenant of Water from other epic novels. Each page offers something to the senses, whether the protagonist is watching a swirling monsoon sky grow dark from the porch of Big Ammachi's Parambil estate or struggling to adapt to the crowded hustle and bustle of Madras, Verghase's mastery of imagery immerses us in the experience. We don't just understand the stark contrast between the leper colony's beautiful gardens and the disfigured, infection-ravaged patients, we feel the injustice, the pain, and the communal gratitude.
The Covenant of Water is Oprah Winfrey's current book club choice. It moved America's favorite literary diva so deeply, she postponed her next book club choice to give people more time to read it. Calling it a "modern masterpiece," she created a special podcast dedicated to it. For a deeper dive, visit The Covenant of Water Podcast on YouTube.
Find The Covenant of Water in the Library's collections in print, ebook, eaudiobook, and CD.