---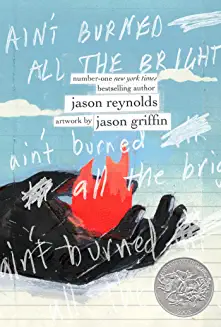 Ain't Burned All the Bright by Jason Reynolds
Hi, I am Sarah. I am fourteen years old and an avid reader; it is one of my favorite things to do. Inspired by authors' creations of magnificent places and surprising havens built by simple letters, I aspire to be an author and, meanwhile, nurture the love to write.
Ain't Burned All the Bright is absolute proof that you don't need thousands of words to write a good story, and that you don't need a thesis and supporting paragraphs to connect viscerally and beautifully to people. With an extended poem by Jason Reynolds—three long sentences, to be exact—and three hundred pages of poignant illustrations by Jason Griffith, Ain't Burned All the Bright brings light to what it feels like to be stuck in "the every-hour rerun/about how we won't/change the world/or the way we treat the world/or the way we treat each other."
This is one of the most powerful books I have ever read. Somehow, it is heartbreaking yet hopeful, fierce, and vulnerable, both asking questions and granting permission to breathe. This book lays the world bare, raw, and lived-in. It asks what is wrong with humans and it says you are okay and it tells us we are okay, we can breathe, we can change.
It guides us to find that the oxygen we need is in front of us. This book is human. This book is why art exists.
To any reader perhaps intimidated by the mind-melding blend of artwork-turned-manifesto, Reynolds says it best: "just live in it. give yourself over to it. that's all." I needed to give myself to this book. And so does everyone. So do you.